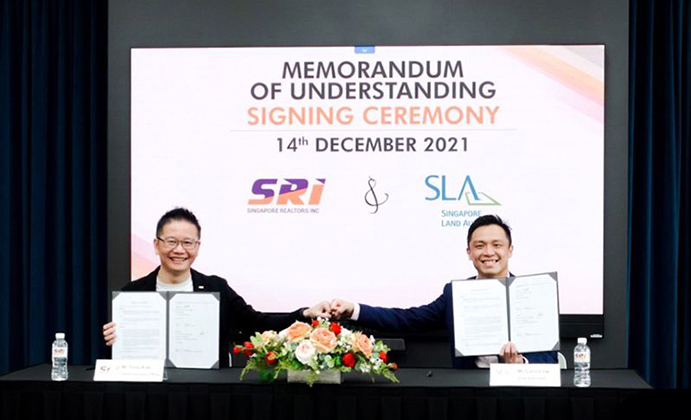 SLA CE Colin Low (right) signs an MOU with Tony Koe (left), CEO of Singapore Realtors Inc.
MOUs with property companies
The Singapore Land Authority (SLA) has partnered with the top five largest property agencies in Singapore to further geospatial innovation in the real estate industry. SLA has signed Memorandum of Understanding (MOU) with the top five largest property agencies in Singapore - PropNex Realty, ERA Realty Network, OrangeTee & Tie, Huttons Asia and SRI. The MOUs will see SLA partner the property agencies to collaborate on geospatial innovation and improvement of hyperlocal and granular data in Singapore.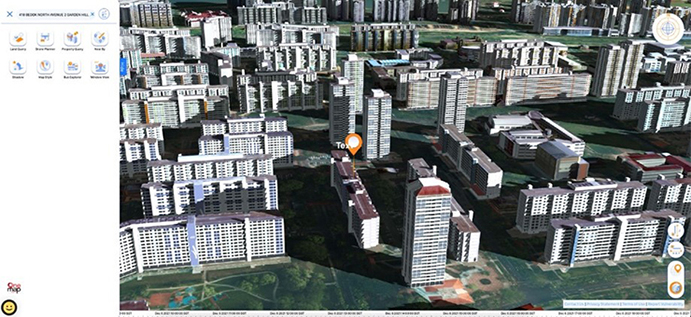 Shadow castings – Visualisation of shadow castings on a selected building at specified time of the day.

NSEW view from a building – Visualisation of the four facing from selected floor of a building.
NextBillion.ai
Co-Founder Talks About Building an App

Ajay Bulusu, co-founder of NextBillion.ai, a GeoWorks' GeoTech, spoke to Tech in Asia Studios about his experience in building an app that aims to be the next Google Maps.
Grab Goes Public

Grab, a GeoWork's GeoPartner, Southeast Asia's ride-hailing giant, was listed on the Nasdaq stock exchange on the 2nd of December after a US$40 billion merger with a special purpose acquisition company.
EOfactory

We spoke to Abhay Swarup Mittal, the Founder and CEO of EOfactory, about his company, its solutions and challenges faced.

Phase One

We spoke to Michael Fu, Business Development Director, SEA, Digitalisation & Geospatial at Phase One about his company's products, solutions and the role of geospatial technology in their work.
Bentley Systems and SMRT Trains Collaborate

Bentley Systems and SMRT Trains have
successfully implemented a Predictive
Decision Support System (PDSS) for
Singapore's North-South and
East-West MRT lines.

Robot Dog to Conduct Scans at Worksites

Spot the robot dog, a machine built by Boston Dynamics, used previously as a safe distancing robot at Bishan-Ang Mo Kio Park, will now help to conduct laser scans of structures at worksites in Singapore and send the results over 5G for checks.

Trimble and Microsoft Announce Partnership

Trimble, a GeoWorks' GeoPartner, and Microsoft announced a partnership in October 2021 to advance technology adoption and accelerate the digital transformation of the construction, agriculture and transportation industries.

Geo Connect Asia 2022: Second Edition of Southeast Asia's Flagship Geospatial and Location Intelligence Event
Geo Connect Asia (GCA) 2022, organised by Montgomery Asia, will take place from the 23rd to the 24th March. Themed "Geospatial & Location Intelligence Solutions for Asia – Underground, Land & Sea to Sky", the event seeks to address the interplay between ground and satellite technologies, and artificial intelligence and data analytics, amid growing momentum towards a Geospatial 4.0 world.


"As a great platform to promote the adoption of geospatial technologies in the ASEAN region, the SLA is confident and pleased to be working closely with Geo Connect Asia towards this common goal. We look forward to seeing GeoMembers at Geo Connect Asia and also welcome more geospatial companies far and wide to join the GeoWorks community," said Ng Siau Yong, Director, Geospatial & Data Division and Chief Data Officer at the Singapore Land Authority (SLA).

SLA and GeoWorks are strategic partners at this event.
For updates or to exhibit, please visit www.GeoConnectAsia.com
Guest-of-Honour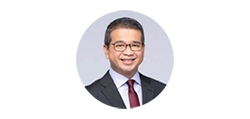 Minister Edwin Tong SC
Minister for Culture, Community and Youth
and Second Minister of Law
Singapore
Keynote Speakers
Colin Low
Chief Executive
Singapore Land Authority

Dr Nadine Alameh
Chief Executive Officer
Open Geospatial Consortium